Such things as the eye can go back to 1000 B.C.
Surapadman (an asura) ravaged the earth and tormented its beings. It was realized by the gods that only the son born of Shiva could lead the gods to victory over Tarakasuran, Surapadman and their companions. They plotted with Kamadeva, to shoot a flower arrow at Shiva, as he sat in meditation, so as to make him fall in love with Parvati. When Kama aimed his arrow, Shiva opened his third eye and burned Kama to ashes instantly.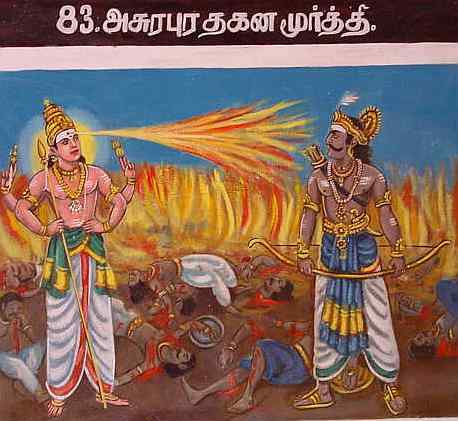 The sparks of the fiery seed of Shiva were unbearable; even the fire God Agni could not bear them; this fire was then transported by the river Ganga into the Saravana forest into a pond called the Saravana Poigai(located at mouths of river Ganga), where the sparks became six children. They were raised by the six Krittika or Kartika - the stars that make up the Pleiades, earning the name Karthikeya. Parvati combined these six babies into one with six faces, i.e. Shanmukha or Arumugan. Since he was born in the Saravana he was also called 'Saravanabhava

quicksilvercrescendo




Posts

: 1868


Join date

: 2009-12-01


Location

: The Here & Now



Flames I could have sworn I read something about the evil eye in the Quran. What it seemed to me was the evil eye as being given to men by women. Promoting desire? So it was a look that said oh yeah baby. And Allah warned men of the evil eye from women. That is what I thought it meant when the Quran spoke of it. But it could have also meant something else as well.
Just found this link. The all powerful eye!
http://www.themystica.com/mystica/writings/my_evil_eye_experience_with_effective_solution.html

seraphim




Posts

: 1180


Join date

: 2009-11-18




---
Permissions in this forum:
You
cannot
reply to topics in this forum